Glow Head To Toe
Regular price

Sale price

$68.00

Unit price

per
The Glow Head to Toe Gift Pack is designed to include a carefully selected range of our products to leave you polished from head to toe. Each pack is beautifully presented in a white gift box and includes:
1 x Peppermint Foot Balm:
Nourishing and cooling balm with cocoa butter to soften the skin and peppermint oil to refresh tired feet.
 
1 x Normal Shampoo Bar:
Our Normal Shampoo Bar, Red Argiletz Clay provides gentle cleansing, and Lavender and Bergamot Essential Oils create a calming atmosphere.
 
1 x Deluxe Face Bar:
This special recipe includes Avocado Oil, Shea Butter, ground Oatmeal, Manuka Honey, fresh Dairy Cream and Red French Clay. Creamy, deep cleansing and ultra nourishing. The Pink Clay assists gentle cleansing and cell rejuvenations. Lightly scented with a proprietary blend of Essential Oils to enhance your complexion. For best results use with our silk face cloth.
 
1 x Patchouli Sunrise Soap:
Celebrate sunrise in a tropical paradise, what better way to start a day? Warm, earthy Patchouli combines perfectly with Sweet Orange Essential Oil.
 
1 x Small French Vanilla Body Butter:
Take a tropical holiday with this vanilla body butter featuring monoi de Tahiti oil. This decadent oil is made in Tahiti by macerating Tahitian gardenia flowers with virgin olive oil and then infused with vanilla to create a delicately scented oil. We add cocoa butter for additional nourishment, suitable for all skin types.
 
1 x Pumice Foot Scrub:
Foot shaped natural pumice stone - to smooth away rough areas on heels after soaking.
 
1 x Silk Face Cloth:
Silk's unique protein structure provides enzymatic action to assist in dissolving dirt and other impurities from your skin, encouraging circulation and cell regeneration. Use daily to aid the skin's ability to shed dead cells and clean pores. Can be used with any soap, but for best results we recommend gentle facial cleanser or deluxe face bar. Your skin will look polished and radiant. Machine washable.
VISIT US IN-STORE OR ONLINE

15/25 Quanda Road,
Coolum Beach, Queensland, 4573
Australia.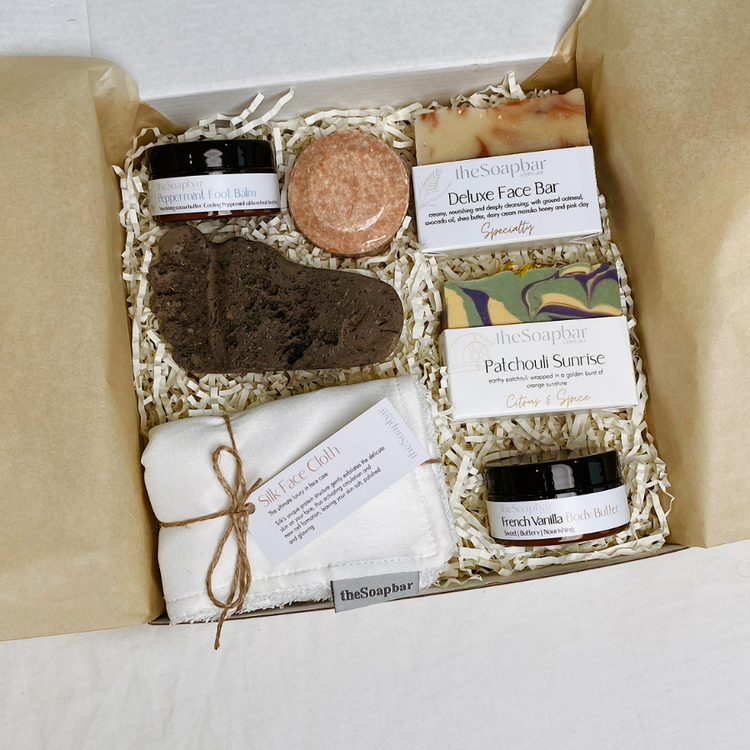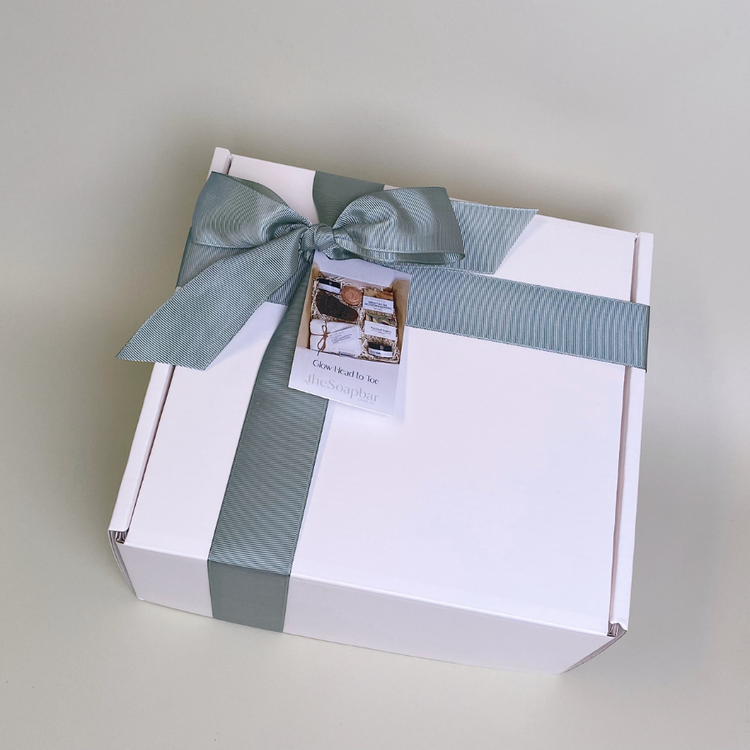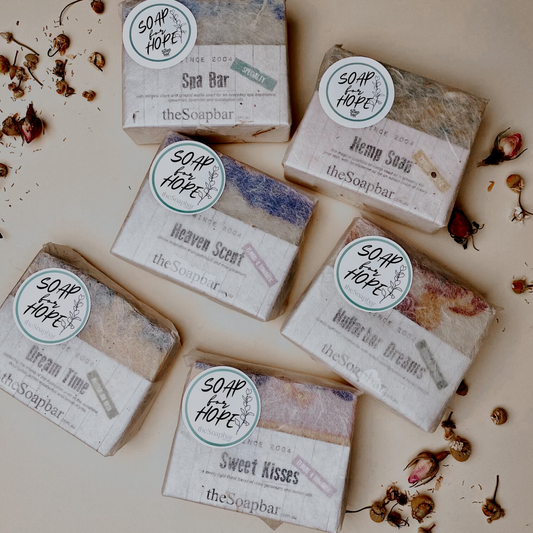 Soap for Hope
The soap bar is located on the sunshine coast, queensland, australia and produces boutique style handmade soaps and natural body care products.
We believe in giving back to the community that supports us.  In July 2021, we started Soap for Hope. Each month we will donate 100 bars of soap to a different charity, for them to use/sell/raffle/donate as they like.  
As a small family business, it's important for us to be involved in our local and national community. It's just a bar of soap, but to someone in need it might mean a whole lot more.
If you would like to be involved or suggest a great charity, get in touch by sending an email to us.
Soap For Hope